Ukraine – Consular assistance
The advice is for British nationals to leave Ukraine immediately if they judge it is safe to do so. It is for individuals to make that decision, whilst following the advice of the Ukrainian authorities, as measures will vary from region to region.
While the Government maintains a diplomatic presence in Ukraine, we can no longer provide consular assistance in person due to the deteriorating security situation. Our Ambassador has also been relocated. Our diplomatic staff are still accredited to Ukraine and will return to the country as soon as conditions allow. I would like to assure you that British nationals in Ukraine who require consular assistance can still reach the FCDO 24/7 on 01908 516 666 or +380 44 490 3660.
Rapid Deployment Teams (RDTs), trained in crisis response, to countries neighbouring Ukraine to support consular operations in UK embassies have been deployed, and are now being drawn down, due to lower numbers of British nationals crossing the borders of Ukraine. Full, in person consular assistance is available in neighbouring countries.
We have set up a registration system (https://www.register.service.csd.fcdo.gov.uk/ukraine-20220121/register-your-presence-in-ukraine-with-fcdo) so that we can continue to send regular messages, including any updates to Travel Advice. British nationals remaining in Ukraine should register on this system and sign up for Travel Advice email alerts: https://www.gov.uk/foreign-travel-advice/ukraine/email-signup.
Visas and emergency travel documents
The Home Office is working to ensure that British nationals are able to access support quickly.
The FCDO remains responsible for issuing emergency travel documents. While we can no longer issue emergency travel documents in Ukraine, these can be issued and collected from our missions in any of the neighbouring countries. Anyone requiring an emergency travel document can do so via gov.uk: https://www.gov.uk/emergency-travel-document 
The Home Office continue to hold responsibility for visas and passports. The Government has taken measures to ensure that those with family ties to the UK are able to join their families in the UK. Concessions have been made to the family rules to allow Ukrainian family members of British nationals, settled persons and certain others to come to, or remain in, the UK when they would otherwise not meet the core requirements of the family rules. Changes to Immigration Rules will come into force from 15 March, while a bespoke application process, the Ukraine Family Scheme, opened from 4 March.
Family members of British nationals in Ukraine who wish to apply to the Ukraine Family Scheme should call the 24/7 free helpline +44 808 164 8810 (0808 164 8810 if you're in the UK and can access further information here: https://www.gov.uk/guidance/support-for-family-members-
Information and support
If you are a resident with friends and family in Ukraine and need information or support about what is happening please contact the Ukrainian Embassy in London:
For official information on travel advice to and from Ukraine visit GOV.UK.
Find immigration advice on temporary concessions for Ukrainian nationals applying to join a family route at GOV.UK.
For parents of young children or young people
With the situation developing in Ukraine, your children may be asking questions that you are unsure how to answer.
Donations
The Disasters Emergency Committee (DEC) is coordinating a Ukraine Humanitarian Appeal.
DEC brings together 15 leading UK aid charities, raising funds to quickly and effectively respond to overseas disasters
The DEC said the message from aid workers was that "money was needed rather than specific donated items, which are often not necessarily what people require and are difficult to transport"
To donate directly to the Ukrainian government use the website withukraine.org, run by the Embassy of Ukraine to the UK.
To make a donation towards the UN's humanitarian work in Ukraine, please visit Ukrainian Humanitarian Fund UN Crisis Relief.
There are many other charities collecting donations, both financial and supplies such as food and clothing – the Charity Commission and Fundraising Regulator have urged the public to 'give safely' to registered charities helping and supporting those affected by the invasion of Ukraine.
Offers of accommodation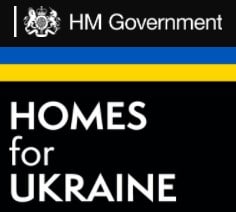 The UK government has published details of the national 'Homes for Ukraine' scheme.
This will offer a route to those who want to come to the UK who have someone here willing to provide them with a home. It will enable individuals, charities, community groups and businesses to volunteer accommodation and provide a route to safety for Ukrainians, and their immediate family members, forced to escape their homeland.
Sponsors should provide accommodation for as long as they are able, but we have a minimum expectation of 6 months.
Independent matching services for community sponsorship are getting up and running, such as this one by Reset, the Home Office funded body that supports groups sponsoring refugees: www.homesforukraine.org.uk
Support organisations in North Devon
If you wish to help give someone a home you must register through the Homes for Ukraine website but please keep up to date with and contact North Devon Council so they also have your details. 
Likewise please do contact the excellent Pickwell Foundation as they will, be providing community support to both the refugees in our community but support for host family sponsors.